The property is 3 1/2 hectares in the middle of the forest with more than 100mile trail to explore going over the Belgium borders.
There are big paddocks for the horses were they can go outside during the day. The horses are going outside in groups and there is always hay available.
The outside arena is always workable with a nice flooring and good light at night. 
Next to the arena we have the roundpene with the same flooring. The roundpen is below ground level so it makes it possible to use it also as a aqua-training.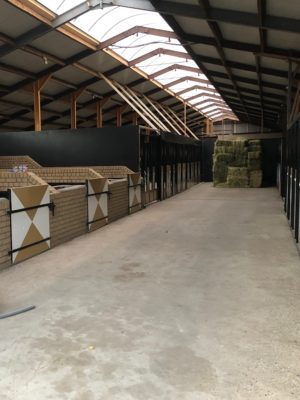 There are around 35 stables on Kinskystable. The stables are split in 3 different barns were we keep the horses.
The stallion barn is in the hart of the property with the paddocks near there barn.
The mare barn is a light and big barn, were we keep most of the riding horses and the mares. When foaling season starts most of the mare wil give birth in this barn were we have big stables and camera protection.
The youngster barn is on the other side of the farm. There we have stables for same of the mare in the winter. On the other side of the barn there are group stables were we keep the foals and the 1 and 2 year old mares.